I got the photos uploaded and resized from our TEA Party in Brentwood yesterday. I was very pleased at the turnout and would you believe the paper actually had an announcement about the TEA Party? Now we'll see if there is any report on it next week. (We have a weekly here in town) Mike Holoka was a great speaker and I really enjoyed what Sean Ackley had to say. Sean wrote the commentary for the
Brentwood Press
and you can read it
here
. I didn't know that two single moms started our Brentwood organization and I am sure proud of them!
Here is the view we had from our chairs:
See the Cub Scouts to the left there? They presented the flag for our Pledge of Allegiance and National Anthem.
There were some great signs there! This is the gazebo at the city park. It was a perfect place for the event since there are lots of trees for shade.
People on our left. More in next few photos.
Even had tea! Just to the right of the tea table was the registration booth. We were given little flags and information if we wanted it.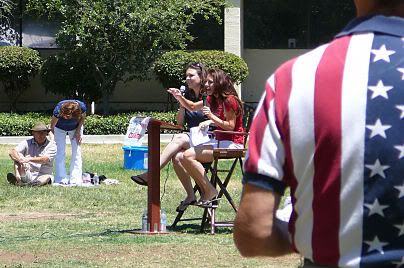 These are the two gals who organized the Brentwood TEA Party. I apologize for not know catching their names.
I don't know this guy's name either but he gave a short speech that was great!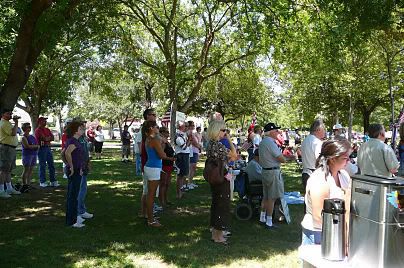 There were all ages at the event...families with young children up to senior citizens like us!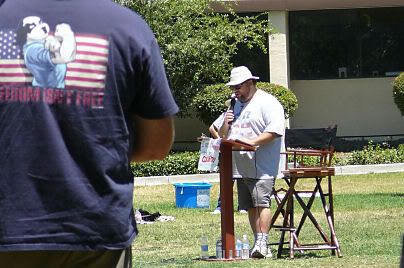 This is Sean Ackley giving his address. He has been very active in the Ron Paul Meet-Up as well as the TEA Party.
Last, but not least, is Mike Holoka who came out here from Chicago to give us a rousing speech. Mike is a regular contributor at the RE Tea Party.com groups. I like the way he thinks and gives us good information.
Thanks for looking and please leave a comment!